Ana
Hospital Office Manager
Ana was born and raised in Ventura County. She has worked in the human medical field for 15 years as an office supervisor for a family medical center and a cardiology medical group. Ana is new to the veterinary field but you wouldn't guess. Whenever she has a free moment, she spends time in the treatment area kissing kittens and asking to be of assistance to the nurses. Ana has immersed herself in our clinic and has been eager to learn about veterinary medicine with a goal toward improving our client's experience. When not at work, Ana enjoys spending her time with her family and 9 year old daughter.
---
Amber
Client Service Representative
Amber is from San Luis Obispo County. She recently joined The Cat Doctor in 2016 and comes to us with experience as a human medical assistant in family practice and in health insurance requisitions. Amber has always been enamored with cats. She is excited to transition from the human medical field to the veterinary field. Amber has a black and white Tuxedo cat named Pickles and in her spare time she enjoys camping, tennis, beach excursions and watching her children play sports.
---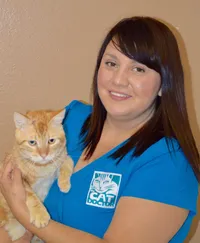 Crystal
Lead Veterinary Assistant
Crystal was born and raised locally in Oxnard. She has been a veterinary assistant at The Cat Doctor since April 2015 and has been working in the field for eight years. Crystal graduated from Fresno State with a degree in Animal Science with an emphasis in pre-veterinary science. She is now attending Ventura College in pursuit of an associate degree in nursing. When she is not saving lives as our doctors right hand she enjoys travelling, going to music festivals, hiking and spending time with her cat and two doggies.
---
Alvina
Veterinary Assistant
Alvina joined The Cat Doctor in 2015 as a kennel assistant and whole heartedly invested herself into learning as much as possible. She was quickly promoted to veterinary assistant. She comes to us with six years' experience working in the human care-giving field. Growing up, she had a passion for cats and loved to care for them. The nursing staff instantly recognized her dedication and took her under their wing. Alvina loves her career at The Cat Doctor. Her smile is infectious and she goes above and beyond to ensure each client has the best experience possible. She takes pride in making sure each cat is treated with love and care she would want for her own. Outside of her work life, she spends her time reading, cooking, parenting and seeking outdoor adventures.
---
Aubrey
Veterinary Assistant
Aubrey is from Thousand Oaks, California. Her very first pet was a cat at the age of 8 and she has been in love with them ever since. Aubrey received her Veterinary Assistant certification from Redlands Regional Occupational Program in 2006. She has worked at several animal hospitals over the years but The Cat Doctor is her dream environment. What makes Aubrey special is her individual attentiveness to each cat and making sure all their needs are met, even if it's as simple as providing a play toy or hideaway box for kitty. Outside of work she dedicates her time to raising her precious toddler.
---
Melissa
Veterinary Assistant
Melissa received her Certificate as Veterinary Assistant from Charter College and joined our team after completing a three month internship at The Cat Doctor. Melissa has been a cat lover since she was a little girl, her family and friends affectionately call her the cat lady. Her love of cats prompted her to leave her career in corporate banking to pursue her dream of veterinary nursing. When not providing expert loving care just for cats she enjoys family time with her husband, daughter (who wants to be a veterinarian), dog Tobie and her kitty Wookey Jack.
---
Mimi
Client Service Representative, RVT
Mimi started working as a veterinary assistant as a teenager and earned her Registered Veterinary Technician certification in 1985. She left the field to become a stay-at-home mom and returned to the working world in a variety of administrative positions, always hoping to get back into the veterinary arena. Mimi is very happy to once again be working in veterinary medicine, and loves working with our cat owners as the Client Service Representative. She loves to rescue cats and dogs, having adopted several Rottweilers, Golden Retrievers, cats and kittens. Mimi currently has two cats, Magic and Willow; and a Rottweiler, Kona. In her spare time she enjoys spending time with her family, playing tennis, and beach trips.
---